LOLAMA – TO ASIMENIO DENDRO LP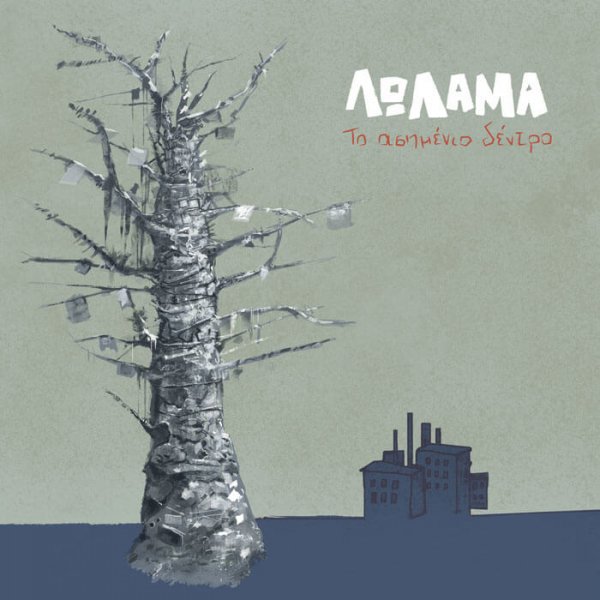 Lolama ("Lunacy") were based in Thessaloniki, Greece, being active between 1989 to 1997. Their sound was cited as dark punk, however, their style was rather ill-natured rendering it quite unique. Drawing no relations between the contemporary sound of punk rock at the time and over the following years, the differentiating factor in the sound was the lyrics written by their lead singer Christos Tziokos alongside their bizarre, full of anguish, way of expressing themselves. (The lyrics of their music album, among other poems, were part of the poetry collection titled O dermatinos anthropos, "The man made from leather", published in 2009).

While they were active they were not able to release a fully completed music album, however, they released a demo tape titled Ta kamarinia tis ipomonis ("The dressing rooms of patience"), a 7-inch single titled O vomos tis monaxias ("The solitude altar"). They also participated in the song enigma ("Enigma") of the Fanzine collection titled "In the shadows of B23".
To asimenio dendro, ("The silver tree") was recorded in 1995, waiting to swirl its wing-blades, however, the times "demanded" different musical approaches. Which is also the case for nowadays, however, we can now defy whatever the times may be instructing. At least for a while. The band reached it's absolute peak while recording this album. 14 songs placed around a not so distant dystopian environment, make up a fine specimen of a post-punk music period. The lyrics compliment their stiff and stark sound, with images full of emotion. Free and away from the repeated norms of the punk idiom as they were expressed around the 80's decade in Greece.
Τracklist:
To asimenio dendro ("The silver tree")
Metasximatistis ("Converter")
To sindromo tou citer pan ("Peter Pan's Syndrom")
Petao ("I'm flying")
O dermatinos anthropos ("The man made from leather")
Anamesa sto kokkino kai sto kitrino ("Between red and yellow")
Sferes-Stigmes ("Bulletts-Moments")
Strictly limited edition: 100 numbered vinyl copies.
Αrtwork: Thanasis Petrou
Mastering: Nick Stylidis – Labyrinth of Thoughts
Check also: Lolama Dyo – Aktinografia CD.