LUDMILA – SUDDEN / HJART OCH LP+CD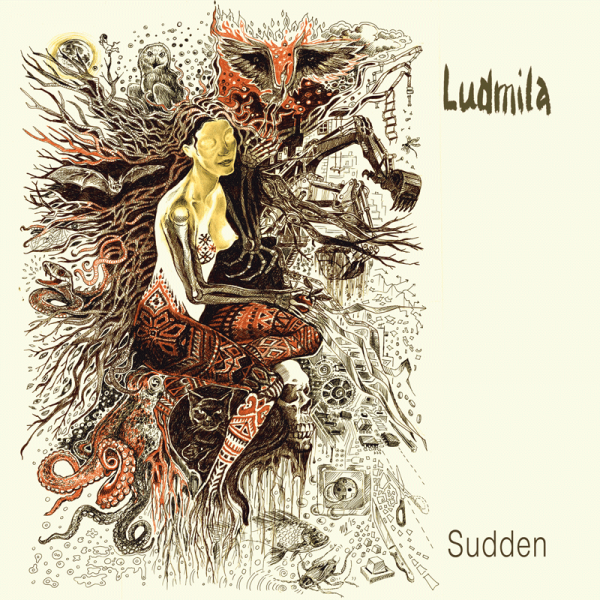 Ludmila means "adored people". Also adored is the voice of Flora Ioannidi, who formed the band along with the drummer George Apostolou. Both were former members of Make Believe. The best alternative band of the 90's in the Greek underground scene.
In 2008 they recorded the album entitled Hjärt – och (in Swedish means " heart – and …", the rest of it can be filled as anyone wishes. However, Flora continues to write the lyrics in English!). For several reasons, it was not possible to be released at that time. It contains 9 tracks and its sound is quite close to the musical past of the two founders of the band. With a parallel approach in a more rough-modern sound through the musical compositions of the guitarist Spyros Kaminaras and the bassist Pantelis Kourtalis, whom they complete the line-up.
Until 2012, when Nick Paschalides joins the band, as a second guitarist. He also participates in the compositions. The musical orientation of the band is now orientated on a heavy, psychedelic, progressive sound, sometimes indolent, sometimes doom. In the spring of 2015 they record the album Sudden. 6 tracks with 40 min. total duration.
Labyrinth of thoughts records is releasing both albums in a combined (Lp + Cd) edition. The album Sudden on vinyl, the Hjärt – och album on cd, as bonus. The cd also includes the tracks of Sudden. It comes free and exclusively available inside the vinyl cover. It will not be sold separately. Plus 4 pages colored insert.
Limited edition of 300 copies, on 150gr vinyl.
Sudden cover artwork by visual artist Aikaterini Andreou. Hjärt – och cover artwork by Flora Ioannidi.
LP Τrack list – Sudden: Day by day, Oughta Know, Cover me, Shortcomings, Piece of mind, Tree.
CD Track list – Hjärt – Och: Colors, Long ago, Out of my hands, Letting go, Demons, All new, Safe and sorry, Unclean, The waiting room + Sudden Lp tracks.
Ludmila: Flora Ioannidi – vocals (ex MB), Spyros Kaminaras – guitar, Nick Pashalides – guitar, Pantelis Kourtalis – bass, George Apostolou – drums (ex MB)